Read below your more information on Hawaiian Airlines Luggage Sizes, Weight & Restrictions: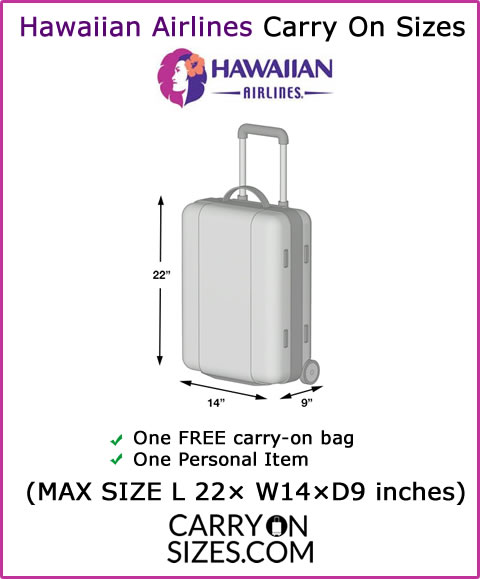 Hawaiian Airlines Carry On Sizes
Hawaiian Airlines Carry On Baggage Summary
1 FREE Carry on
1 FREE personal item – purse, briefcase, laptop, etc
22″ length x 14″ width x 9″ height (45 linear inches)
11.5KG MAX Weight
More information at: hawaiianairlines.com
Hawaiian Airlines Carry On Baggage – Personal Items
You're welcome to bring on board one piece of carry-on baggage and one personal item.
What's a personal item? It's one of the following:
Purse
Briefcase
Laptop bag
Backpack or similar item
Your carry-on bag is fine if it's within the following limits:
22″ length x 14″ width x 9″ height (45 linear inches)
Maximum weight: 25 pounds (11.5 kg)
Your primary storage area is the space under the seat in front of you. The overhead compartments are for all passengers and are on a first come, first served basis. If your carry-on item cannot safely be stored under the seat in front of you or in the overhead bin, or if all storage areas are full, we may have to ask you to check in your baggage for pick-up at your destination.
Hawaiian Airlines Baggage Restrictions
For restrictions on liquids, please see the TSA 3-1-1 guidelines.
---
Hawaiian Airlines Kids Policy
Travelling with Kids? You Receive Carry-On Exemptions
If you're an adult travelling with children on Hawaiian Airlines, you may bring on board the following as part of your carry-on baggage allowance as long as the items can properly fit in the overhead compartment or beneath the seat in front of you.
Car seats
Infant carrying seats
Strollers
---
Hawaiian Airlines Check-in Baggage on US Domestic Flights
Please keep in mind that fees are charged per piece, each way, and are non-refundable.
And there are extra charges for luggage that is overweight or oversize.
---
Hawaiian Airlines US Domestic Baggage Allowance
The following baggage fees apply to luggage that meets the below requirements:
Maximum Dimensions (length + width + height): 62 linear inches (157 cm)
Maximum Weight: 50 lbs (23 kg)
---
Top Hawaiian Airlines Baggage Tips
Be familiar with Hawaiian Airlines baggage fees and rules before you take off. Ensure your Delta Baggage is within Hawaiian Airlines Baggage Size, Weight Restrictions
Limit the number of bags you take and reduce the potential for additional baggage fees by sharing luggage.
Pack light and consider using a compression device to fit all of your items into a smaller space.
Joining the Hawaiian Airlines rewards program or frequent flier program may allow you to check bags for free.
---
More info on Hawaiian Airlines Baggage Policy
Have questions about your Hawaiian Airlines Baggage Sizes, Weight & Restrictions?
With all the Hawaiian Airlines rules and regulations, it would be GREAT to the have answers about weight limits and restricted items before jumping on your Hawaiian Airlines Flight.
Hawaiian Airlines Website: hawaiianairlines.com
Hawaiian Airlines Phone Number: 1 (877) 426-4537