Air India BAGGAGE Allowance For Domestic & International
Air Indian Hand / Carry on Baggage Allowance
Air India Carry On Summary
1 FREE Carry ON Baggage
1 FREE personal item – laptop, briefcase, handbag etc (Max Weight 4KG)
Carry on max. 22 in x 16 in x 8 in/55 cm x 40 cm x 20 cm (length + width + height)
8KG MAX Weight
The cabin baggage allowance that is applicable for carriage on all Air India flights is as given below for both Air India Domestic and International travel.
Each passenger is allowed to carry on one bag and one personal item such as a laptop bag, handbag, or briefcase. All carry-on luggage must fit in the overhead bin or under the seat in front of you. You must be able to lift your carry-on into the overhead storage without assistance. All carry-on bags must adhere to the following requirements: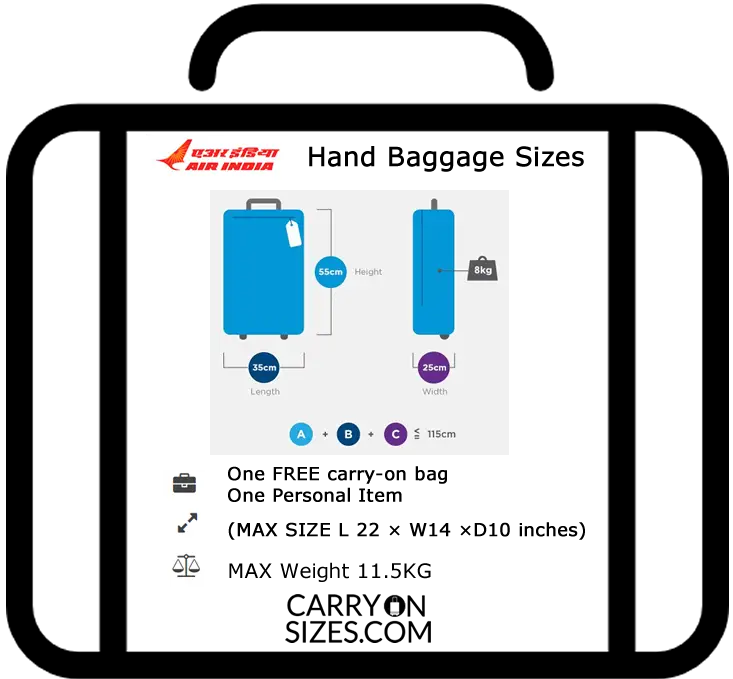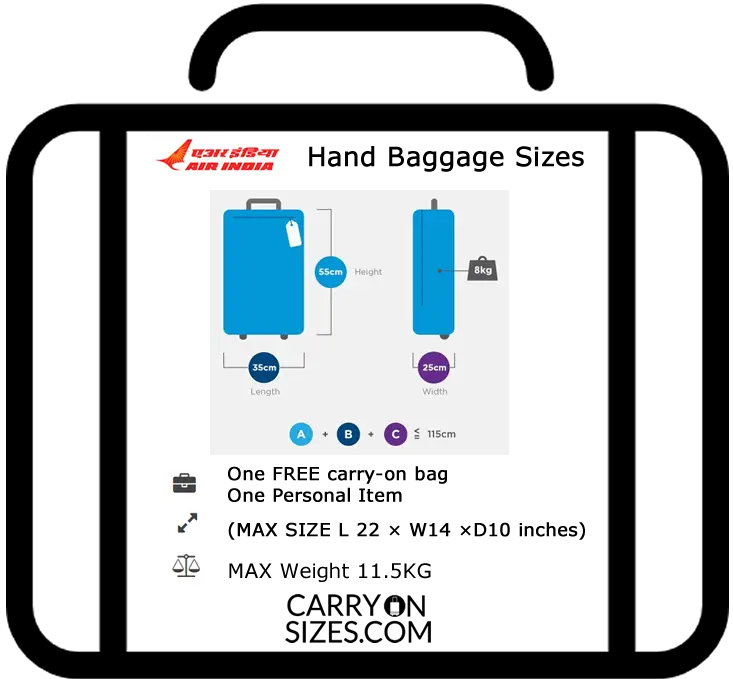 More info on AirIndia Baggage: Airindia.in
Air India Hand Carry on Baggage Size DIMENSIONS
Height 55 cms (22 inches) + Length 35 cms (14 inches) + Width 25 cms (10 inches) for Boeing & Airbus aircraft – Total of Dimensions 115 cms
---
Air India Carry on NUMBER OF PIECES / WEIGHT
Only 1 piece of hand baggage having max weight of 8 Kg is permitted.
---
Air India Free Personal Items Allowance
In addition to one piece of cabin baggage or package, you may also be permitted to carry one following personal item, subject to Security Regulations:
Hand bag.
An overcoat or wrap.
Blanket
Camera
Reading material
Infant's feed
A Collapsible wheelchair or pair of crutches
A Walking stick.
An umbrella
Medicines
A Laptop.
Air India Checked Baggage Allowance
Air India Checked Baggage Summary
1 FREE Checked Baggage
1 FREE personal item + Carry On
Carry on max. 204cm (L+W+H)
32KG MAX Weight
More info on AirIndia Baggage: Airindia.in
---
Air India Baggage Restrictions
Air India Banned Items
Items such as the following will not be permitted to be carried on person / in cabin baggage or in registered baggage while travelling on board our flights. The list given below is not exhaustive and prevailing rules will apply.
Air India Restrictions Personal Items
Lighters, Scissors-metal with pointed tips, Realistic replica of toy weapon.
Air India Restrictions Sharp Objects
Box Cutters, Ice Axes/Ice Picks, Knives (any length and type except round-bladed, butter, and plastic cutlery), Meat Cleavers, Razor-type blades such as box cutters, utility knives, razor blades not in a cartridge, but excluding safety razors, Sabres, Sword
Air India Restrictions Sporting Goods
Baseball Bats, Bows and Arrows, Cricket Bats, Golf Clubs, Hockey Sticks, Lacrosse Sticks, Pool Cues, Ski Poles, Spear Guns.
Air India Restrictions Guns and Firearm
Ammunition, BB guns, Compressed Air Guns, Firearms, Parts of Guns and Firearms, Pellet Guns, Realistic Replicas of Firearms, Starter pistols.
Air India Restrictions Tools
Axes and hatchets, Cattle Prods, Crowbars, Hammers, Drills (including cordless portables power drills), Saws (including cordless portable power saws), Screwdrivers (except those in eyeglass repair kits), Tools (including but not limited to wrenches and pliers), Wrenches and Pliers.
Air India Liquid Restrictions
As per notice issued by Bureau of Civil Aviation Security, Government of India, passengers will not be allowed to carry in their hand baggage or on person exceeding 100 ml,
liquids,
gels,
aerosols,
beverages,
shampoos,
suntan lotions,
creams,
tooth paste,
hair gels,
hair sprays, liquid cosmetics or any other items of similar consistency,
except medicines, inhalers accompanied by prescriptions and baby food.
These items will be carried in one clear transparent re-sealable, one litre size plastic bag and will be subjected to the prescribed screening and security checks
For a comfortable journey, we suggest that most items are placed in your checked-in baggage. Items of value /importance, those required by you on-board the aircraft or required in connection with the journey should be carried in your hand baggage or on your person.
Please check local regulations before your travel.
---
Air India Excess and Overweight Baggage Fees
The excess baggage charges per kilo is 1.5% of the highest normal direct one-way economy class fare. These charges will be in effect on the date of issuance of the excess baggage ticket.
---
Domestic Air India Baggage Max Weight Allowance
| AIR INDIA CABIN CLASS/FLIGHT | AIR INDIA BAGGAGE ALLOWANCE |
| --- | --- |
| Air India First Class | 40Kgs. |
| Air India Business Class | 35Kgs. |
| Air India Economy Class | 25Kgs. |
| Air India Infants in all classes | 10Kgs. |
The maximum weight permissible for a single piece of baggage is 32 kgs. This rule is applicable on the entire Air India flight.
---
Air India Lost & Found Baggage
Send queries to Lostproperty@airindia.in and Bring ID to airport
Lost and found baggage must be collected within 90 days from the date of deposit.
---
Air India Baggage Tips
There are a few tips that you can avoid baggage fees with Air India
Know the Air India Baggage Policy
Navigating the airlines' complicated baggage policies is no small undertaking. Baggage fees change constantly and can vary by airline, destination, date of travel, number of bags, and bag weight and size. Even if you've secured an affordable plane ticket, you could end up paying a lot more than you bargained for when flying on a carrier that charges baggage fees.
Be a Smart Packer
Being smart packer you can save a small fortune in excess baggage fees. If possible stick to the 1 free carry on and personal item allowance. Minimize the number of things you take.
Buying extra weight online at Airindia.in
Get an Air India Elite / Credit Card
Get lighter Luggage to maximize Baggage Allowance
Use a Luggage Scale to measure for overweight luggage before flying on Air India
---
Air India Baggage Allowance FAQs
What is Air India Hand Baggage Allowance?
Size – Height 55 cms (22 inches) + Length 35 cms (14 inches) + Width 25 cms (10 inches). Max Weight 8Kg
What is Air India Checked Baggage Allowance?
The Checked Baggage size of the 3 dimensions (length + breadth + height) of each piece must not exceed 62 inches or 158 centimetres for each piece. Check Checked Allowance at http://www.airindia.in/checked-baggage-allowances.htm
What is Air India Baggage Max Weight Allowance?
Max for first Class 40KG, Business 35KG, Standard 25KG, Infants 10KG
More Info on Air India Baggage Allowance Policy
AirIndia Website: Airindia.in