Guide to Cathay Pacific Baggage allowance
Cathay Pacific Cabin Baggage Allowance Limits
Cathay Pacific Cabin Baggage Allowance
1 FREE Cabin Bag on
1 FREE personal item – (laptop, briefcase, handbag etc)
MAX 22x14x9 in
7-15 KG Weight
More information at Cathay Pacific Baggage Website: www.cathaypacific.com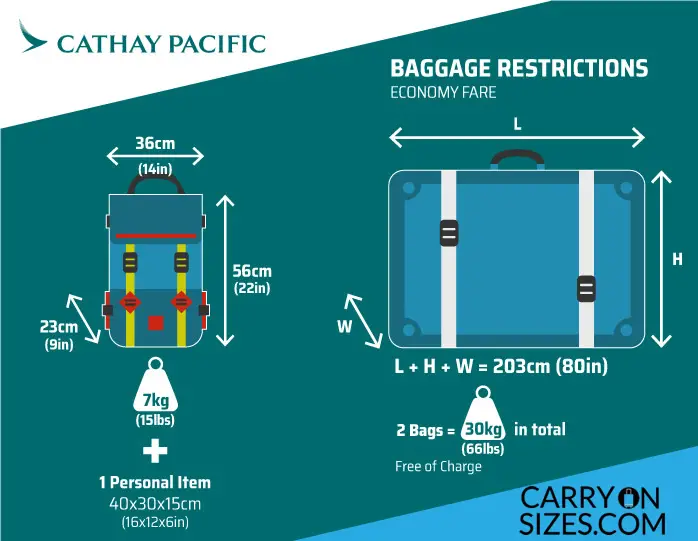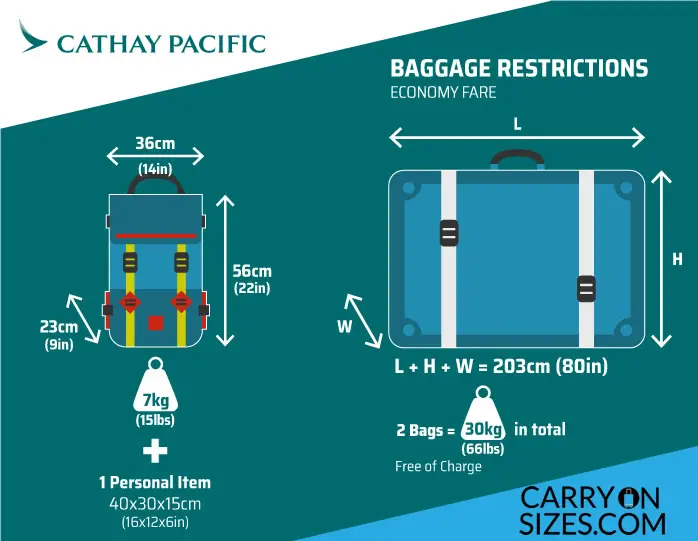 Cathay Pacific Cabin Baggage Sizes
For all classes, each passenger can bring a [free baggage allowance of one cabin bag] not exceeding [56x36x23cm (22x14x9 in) in size].
These dimensions include wheels, handles and side pockets.
Passengers should stow their cabin baggage in the overhead lockers or under the seat in front of them.
---
Cathay Pacific Cabin Weight Allowance
The total weight entitlements of your cabin baggage are as follows:
Class Weight
First Class 15kg (33 lbs)
Business Class 10kg (22 lbs)
Premium Economy Class 7kg (15lbs)
Economy Class 7kg (15lbs)
---
Cathay Pacific Cabin Baggage Allowance by Class
Class Piece allowance Weight / Dimensions allowance
Business class 2 Maximum weight per bag: Weight of each bag: 7kg (15lbs)
Total dimensions of each piece must not exceed 118cm (45in)
Premium Economy class 2
First and Business class 2 Total weight: 15kg (33 lbs)
Each piece must not exceed: 56cm x 36cm x 23cm (22in x 14in x 9in)
Premium Economy and Economy class 1 Total weight: 7kg (15 lbs)
Each piece must not exceed: 56cm x 36cm x 23cm (22in x 14in x 9in)
---
Cathay Pacific Free Personal Baggage
In addition to the standard cabin baggage allowance, you may carry on board one of the following items free of charge:
a small handbag
a small backpack
a briefcase
a laptop bag.
Cathay Pacific Children Baggage Policy
When you are travelling with a child or an infant, you may carry onboard the following item(s) free of charge:
an approved car safety seat
a small bag of food and nappies
an umbrella type collapsible stroller
Baby buggies must be checked in as hold baggage.
---
Allowance for a journey involving other carriers
Cathay Pacific has its cabin baggage policy. However, individual carriers may apply for a different cabin baggage allowance. If your journey involves one or more flights provided by other airlines, you are advised to check with these carriers for details of their policies and ensure compliance.
Passengers are recommended to check in any baggage that they would not be able to lift into the overhead compartment. Any cabin baggage in excess of the allowable size or weight limits will be loaded with checked baggage.
---
More information at Cathay Pacific Baggage Policy
Cathay Pacific Baggage Policies Website: www.cathaypacific.com