Norwegian Baggage Summary Guide
Norwegian Hand / Carry On Baggage Allowance Summary
One piece of cabin baggage measuring no more than 55 x 40 x 23 cm and weighing a maximum of 10 kg, or 15 kg on Flex fares. Passengers may also bring on board a small personal item measuring 25 x 33 x 20 cm.
Norwegian Hand Carry On Baggage Prohibited Items
There are certain items that you are not permitted to carry in your hand luggage. These include:
Firearms
Razor blades
Workmen's tools, such as crowbars or drills
---
Norwegian Checked Baggage Allowance Summary
Norwegian Checked Baggage Allowance Summary
LowFare ticket customers must pay to check their baggage into the hold. LowFare+ customers may check one 20 kg bag and
Flex and Premium customers may check two 20 kg bags. Checked bag dimensions must not exceed 250 x 79 x 112 cm.
Infants under two years of age are given a 5 kg checked baggage allowance, either in a separate bag or included in the luggage of the accompanying adult, plus one car seat and one buggy.
If customers purchase baggage allowances at the airport, these will cost £40 per bag for domestic flights and £70 per bag for international flights. The cost is higher if travelling on a connecting flight. Baggage allowances can also be purchased online, which prices depending on the route and number of bags.
More Baggage info at Norwegian.com
---
NORWEGIAN EXCESS BAGGAGE FEES
NORWEGIAN EXCESS BAGGAGE FEES Summary
Norwegian Checked bags that are over 20 kg will incur a fee of £9 / KG.
No bag may exceed 32 kg for health and safety reasons.
---
NORWEGIAN BAGGAGE FOR INFANTS
The checked baggage allowance for infants not traveling in their own seat is 5 kg, either packed within the accompanying adult's bag or within their own bag. One car seat and one stroller can also be checked for the infant, free of charge.
Norwegian Check-in, Baggage Allowance & Fees
| | |
| --- | --- |
| NORWEGIAN PAYMENT OPTIONS | VISA, Mastercard, American Express, Diners Club, Mastercard/Eurocard debit, , VISA debit, Bank Norwegian VISA |
| NORWEGIAN BOOKING FEES | € 14 when booking through the contact center |
| NORWEGIAN TRANSACTION FEE | € 5 per reservation |
| NORWEGIAN CABIN BAGGAGE | weight: 10 kg, dimensions: 55x40x23 cm |
| NORWEGIAN CHECKED BAGGAGE | weight: 20 kg — € 6 – € 42 |
| NORWEGIAN CHECKED BAGGAGE FEE | weight: 20 kg — € 14 – € 71 |
| NORWEGIAN EXCESS BAGGAGE | € 9 / kg |
| NORWEGIAN ONLINE CHECK IN | Yes |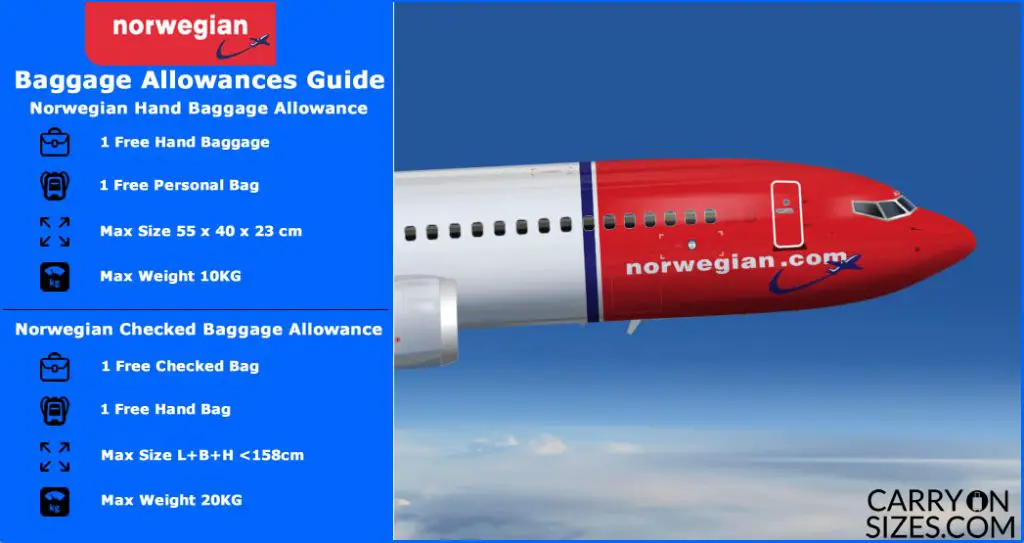 More info about Norwegian Baggage Policy
Norwegian Air Shuttle is based in Norway and operates flights from its main hub located in Oslo. It is a low-cost airline which was founded in 1993 and its headquarters at Fornebu.
It operates both domestic and international flights from Norway to a wide range of destinations mainly in Europe. Apart from providing scheduled flights, Norwegian Air Shuttle offers also charter services.
The airline offers online check-in on its website. On-board refreshments and checked baggage allowance are not included in the ticket price.
Norwegian Customer support
Norway: 815 21 815
Denmark: +45 70 80 78 80
Sweden: +46 (0)770 45 77 00
Poland: 0-700 40 30 40
France: +33 81 18 501 07
United Kingdom: +44 2080997254
USA: 1-800-423-7127
other countries: +47 21 49 00 15
Norwegian Air Shuttle – Address
Norwegian Air Shuttle
Customer Relations
PO Box 115
1330 Fornebu
Norway
More Baggage info at Norwegian.com