If you're travelling with Qantas on an upcoming flight, here's everything you need to know about your Qantas baggage allowance and fees. The Qantas Airlines baggage policy depends on the type of class you're travelling in – Economy or Business
Qantas Carry On Baggage Summary
Qantas Carry On Policy Summary
1 FREE Carry ON Baggage for Standard Class
1 FREE personal item – laptop, briefcase, handbag etc
Carry on max. size 56cm + 36cm + 23cm
7KG MAX Weight for Standard
More info about Qantas Baggage Allowance at: www.qantas.com
---
Qantas Checked Baggage Summary
Qantas Checked Baggage Summary
2 FREE Checked Baggage for Standard Class. 2 Free for Business / First Class
1 FREE personal item – laptop, briefcase, handbag
Maximum dimension of 158cm (62in)
30KG MAX Weight for Standard, 40KG Business/First Class
More info about Qantas Baggage Allowance at: www.qantas.com
Qantas Carry-On Advice
Your carry-on baggagemust:
fit under the seat in front of you or in an overhead locker (including musical instruments)
not exceed the carry-on baggage allowances
not include any dangerous goods unless permitted for carriage.
If your baggage meets the above requirements, but we reasonably believe it's not safe to be included as carry-on baggage, we may require you to check it in.
---
Qantas Carry On Free Personal Items
In addition to your carry-on baggage allowance, you may also carry onboard one small personal item such:
Handbag
Laptop computer
Overcoat,
Small camera
Reading the material
duty free goods
When packing your carry-on baggage:
Ensure you take essential medication and prescriptions onboard with you in your carry-on.
Keep it as light as possible as there can be considerable distances to walk at some airports and space inside the cabin is limited.
If you're carrying fragile or valuable items, ensure they are appropriately packed.
---
Qantas Weight based baggage allowances
No single piece can exceed 32kg (70lb).
Total dimensions for each piece must not exceed 158cm (62in).
---
Qantas Children Baggage Policy
The carry-on baggage allowance for children is the same as for adults.
However, for infants, there is no carry-on baggage allowance. Food and nappies required during a flight may be carried in addition to the accompanying adult's carry-on baggage allowance.
---
Qantas Musical instruments
A musical instrument in its hard-shell case that weighs no more than 7kgs and doesn't exceed the maximum dimensions for musical instruments, can be taken as carry-on baggage and must be placed in the overhead locker. The maximum dimension for a musical instrument is 142cm = 85cm +34cm +23cm.
---
How to beat the Qantas Baggage Allowance Fees?
Fees to check in excess baggage depend on route. Cheaper to buy your baggage allowance in advance online
Invest in smart Baggage Accessories
Split the Baggage load
Learn to pack light
Join the Airline Members Club
You must ensure each item of checked baggage is labelled with your name, address and contact details
We recommend that you lock your baggage
---
Qantas Delayed Baggage Policy
If your checked baggage is not available on arrival, head to the local airport baggage services counter as soon as possible to lodge a Property Irregularity Report (PIR) directly with the airline that operated your flight. If your bags were checked through for multiple flights and your final airline operator wasn't Qantas, you'll need to lodge your report with the airline that operated your final flight.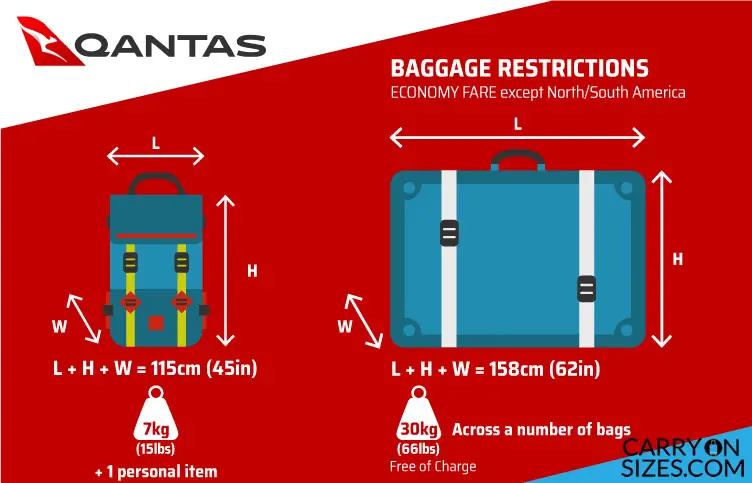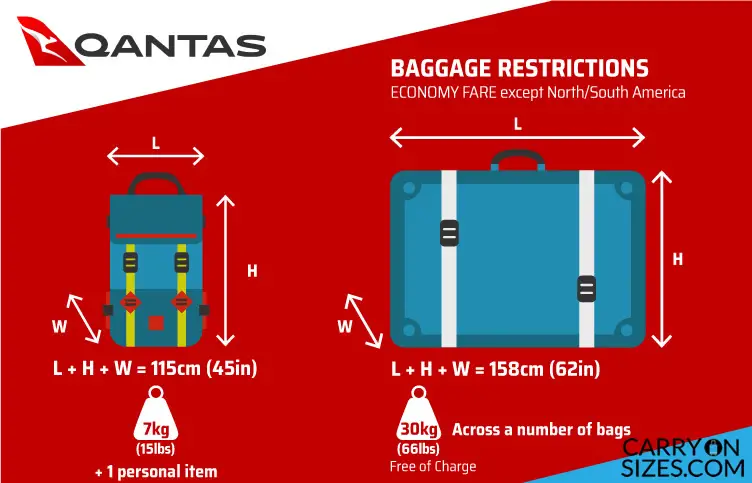 More info about Qantas Baggage Allowance at: www.qantas.com