Guide to SAS Baggage Allowance

Who is SAS?
Scandinavian Airlines or (SAS) is the combined flag carrier of Denmark, Norway and Sweden, Scandinavian Airlines. SAS operates from hubs airports in Copenhagen Airport (CPH), Stockholm Arlanda Airport (ARN) and Oslo Airport
SAS flies to more than 120 locations in Europe, the Middle East, Asia, and North America.
SAS Website – www.flysas.com
 When flying SAS, you must have questions about your Scandinavian SAS Baggage Sizes, Weight & Restrictions Allowances!  
With all the SAS rules and regulations, it would be GREAT to the have answers about weight limits and restricted items before jumping on your SAS Flight. So not be caught with a bag that's too big or too heavy or want to check too many without being charged
Read below your more information on SAS Baggage Sizes, Weight Allowances:
SAS Cabin Baggage Allowance Summary
 1 FREE Hand Carry on
 Height: 55 cm/22″ x Width: 40 cm/16″ x Depth: 23 cm/9″
 MAX 8 KG Weight
  1 FREE personal item – purse, briefcase, laptop, etc
Source: FlySAS.com Baggage Policy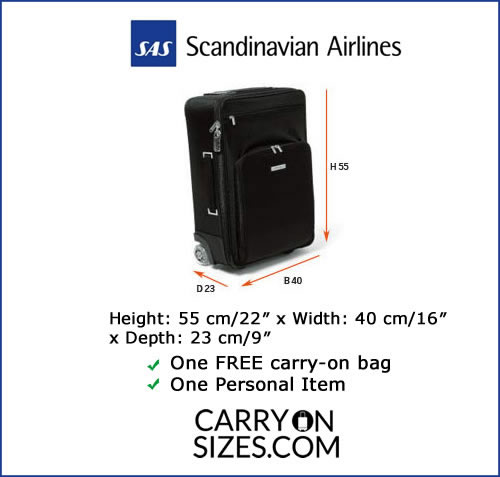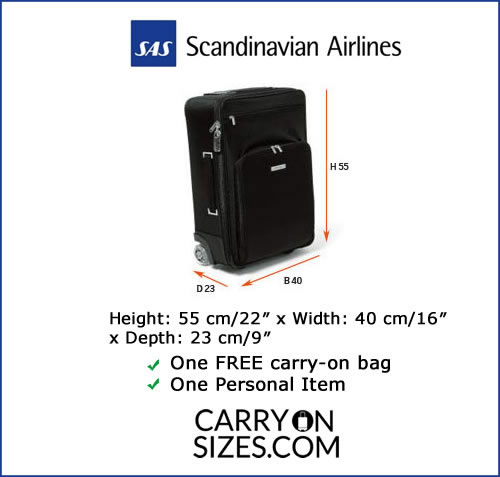 SAS Cabin Luggage Sizes & Weight Allowances:
The following is the maximum size and weight for cabin baggage onboard SAS flights:
Height: 55 cm/22″
Width: 40 cm/16″
Depth: 23 cm/9″
Weight: 8 kg/18 lbs.
---
SAS Extra Babbage Allowances:
If you are flying to the US or Asia in SAS Plus or SAS Business, you can bring two pieces of cabin baggage onboard each weighing up to 8 kg/18 lbs.
In addition to this allowance, all passengers are allowed to bring a handbag or small laptop bag onboard for free.
---
SAS Babbage Restrictions
Extra security checks on electronic devices will be carried out at departure gates for flights to the US from Stockholm & Copenhagen. Ensure that mobile telephones, tablets, laptops & other electronic devices are charged so that you can demonstrate that they operate normally. If they cannot operate normally, the case will be handed over to local police.
Extra security checks on electronic devices to the US from Stockholm
Liquids and gels in containers larger than 100 ml/3.38 oz. are not allowed.
You can bring duty-free goods purchased outside of the EU when you are transferring to another flight at an EU airport.
---
SAS Babbage Limits
Passengers can check up to 4 bags, but checking that many bags will cost you a fee.
You pay less, you should pre-pay for your extra bags at least 24 hours before departure
---
SAS Other Baggage
Oversized luggage 32KG needs to be sent by cargo. Ask SAS about other kinds of special baggage, such as bikes, sports equipment, and musical instruments.
---
SAS LOST / DAMAGED BAGGAGE
According to SAS, they can find lost baggage within 24 Hours. If your Baggage is actually LOST, then look to apply for compensation, you can submit a claim for lost baggage with SAS.
You can file a report and submit a claim for compensation after the damage is detected at the following link: SAS damaged Babbage policy
---
More information on SAS Babbage Policy