Have questions about your Alaska Airlines Luggage Sizes, Weight & Restrictions? YES
With all the Alaska Airlines rules and regulations, it would be GREAT to the have answers about weight limits and restricted items before jumping on your Alaska Airlines Flight.
Read below your more information on Alaska Airlines Luggage Sizes, Weight & Restrictions:
Alaska Airlines Carry-On Baggage Policy
Alaska Airlines Carry on Sizes
 1 FREE Hand Carry on
 9″ H x 14″ W x 22″ L
 MAX 10kg (22lb) Weight
  1 FREE personal item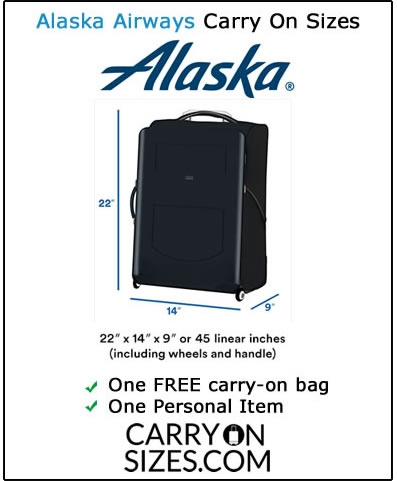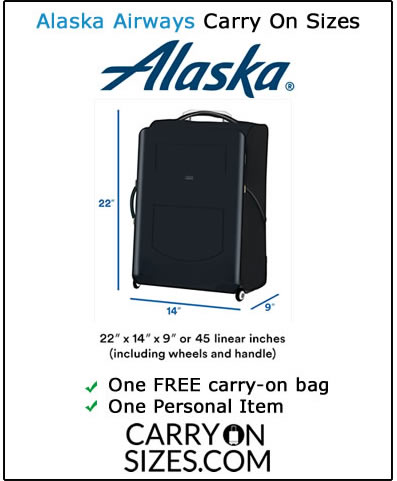 Alaska Airlines Carry-On Size & Rules
The following baggage rules apply only when travelling on Alaska Airlines.
If your itinerary includes travel on another airline, please check that airline's Web site for their specific baggage rules.
You're allowed one carry-on bag, which including wheels and handles can measure up to 9″ H x 14″ W x 22″ L.
Alaska Airlines Carry On Personal Items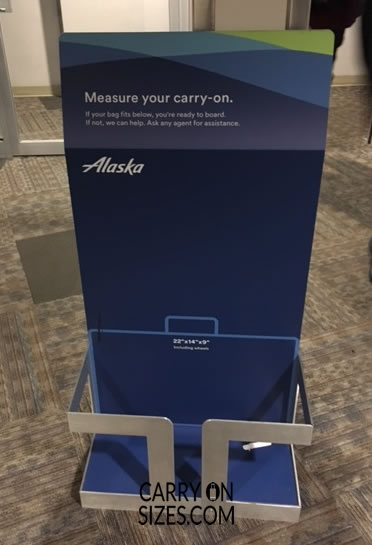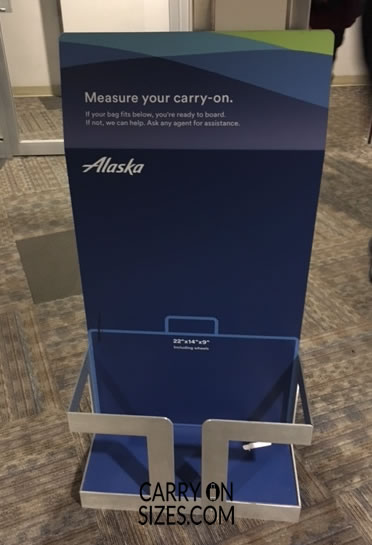 One personal item, such as a purse, briefcase or laptop computer.
At least one of the items should be stowed under the seat in front of you.
Items exceeding the free carry-on allowance will be charged $25 per piece and tagged for delivery to baggage claim at your destination.
---
Alaska Airlines Additional Carry-On Information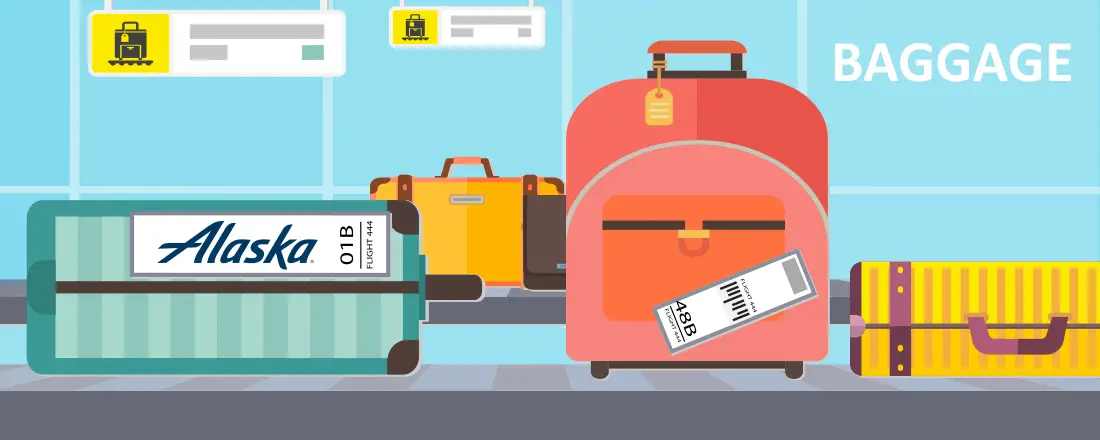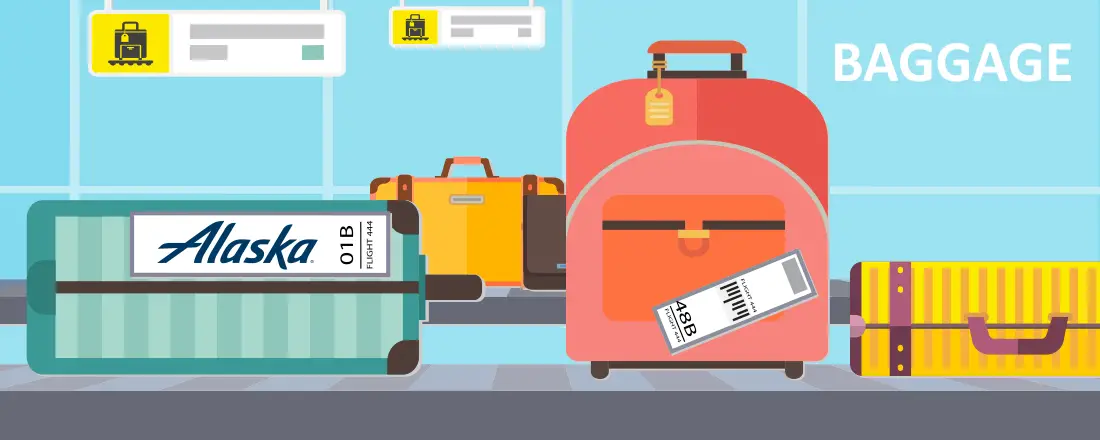 All items brought onboard count toward your carry-on limit except the following:
Coats, hats, umbrellas
A pillow for personal use
Food for immediate consumption
Reasonable amount of reading material
FAA approved child/infant restraint seats to be occupied by a child, strollers
Service Animals, including properly documented emotional support animals
Mobility/Medical assistive devices such as wheelchairs, canes, crutches etc.
Prescription medications and any medical devices needed to administer them
---
Alaska Airlines Prohibited Items
Many common items used every day in the home or workplace may seem harmless; however, when transported by air, they can be very dangerous. In flight, variations in temperature and pressure can cause items to leak, generate toxic fumes, or start a fire.
Please refer to the Permitted and Prohibited Items of the Transportation and Security Administration (TSA) website for a complete list of items which are federally restricted from being carried onboard our aircraft.
In addition to the items found on the TSA website, Alaska Airlines has additional restrictions on carrying or checking the following items:
Items marked with a green "
" are OK to pack as noted.
Items marked with a red "
" are prohibited from your carry-on and/or checked baggage.
CARRY-ON BAG
CHECKED BAGS
Pottery, Glass, or Wood
Printer and Toner Cartridges


(16 oz or greater, to/from Canada)

Internal Combustion Engines 

(Outboard motors, chainsaws, generators, gas powered weed eaters)

Liquids, Gels, or Aerosols 

(Purchased Beyond the Security Checkpoints)

Liquids, Gels, or Aerosols 

(3.4 oz. (100ml) or Less packed per TSA regulations)

Liquids, Gels, or Aerosols 

(More than 3.4 oz. (100ml) and/or not packed per TSA regulations)

Alcohol 

(More than 3.4 oz.)

Restrictions
Breast Milk
Camping/Outdoor Equipment


(containing camp stoves with the residue of flammable liquid, camp fuel cylinders, strike-anywhere matches, insect sprays, propane heaters, etc.)

Explosives


(Fireworks, gunpowder, signal flares, sparklers, or other explosives)

Flammable Liquids or Solids


(Fuel, paints, lighter refills, strike anywhere matches, Sterno, self-heating meals such as MREs)

Household Items


(Drain cleaners, solvents, other caustic or corrosive solids or liquids)

Lithium Batteries 

(Checked bags may only contain batteries installed in electronic devices)

Matches/Lighters 

(One book of safety matches or one common lighter)

Other Hazardous Materials


(Gasoline-powered tools, wet-cell batteries, radioactive materials, poisons, infectious substances)

Personal Air Purifiers
Pool Chemicals


(containing hazardous, oxidizing or reactive materials.)

Sharp Objects


(Knives, cutting instruments – including carpet knives, box cutters, folding or retractable blades, with a cutting edge of more than four inches, pliers larger than seven inches)

Styrofoam Containers
Weapons


(Firearms, ammunition, mace, tear-gas, or pepper spray)
TSA's recently announced changes to its Prohibited Items list, including allowing small pocket knives on aircraft, has been temporarily delayed. For more information visit tsa.gov