Guide to ALITALIA Baggage Allowance Guide
Alitalia is the national airline and flag carrier of Italy.  Alitalia flies to more than 100 destinations across Europe, Asia, the Middle East, Africa, North America & South America.
Website – https://www.alitalia.com
---
ALITALIA Hand Baggage Allowance Summary
 1 FREE Hand Baggage
 H 55cm x W35cm x D25cm
 MAX 8 KG Weight
More information at Alitalia.com
---
YOU ARE ALLOWED ONE ITEM OF HAND BAGGAGE WEIGHING NO MORE THAN 8 KG AND MEASURING NO MORE THAN:
55 cm HIGH
35 cm WIDE
25 cm DEEP

ALITALIA Luggage Size and Weight
55 cm in height, 35 cm in width and 25 cm in depth
The hand baggage you bring on board with you may weigh no more than 8 kg and measure no more than 55 cm in height, 35 cm in width and 25 cm in depth – including handles, side pockets and wheels.
Before proceeding to the boarding gate, check the size and weight of your hand baggage with Alitalia ground personnel or by placing it in one of the baggage measurers near the check-in desk. Passengers who fail to perform this check of their hand baggage may be denied permission to board.
---
ALITALIA Free Personal Items Allowance
Briefcases
Laptop computers
Crutches
---
ALITALIA ITEMS PROHIBITED IN THE CABIN

Items considered dangerous for flight security are not permitted in the cabin:
Scissors
Pencil sharpeners
Pocket knives
Agricultural
Scientific
Sports
Industrial Tools
Replica firearms
No cigarettes, pipes or electronic cigarettes may be smoked on board.
No Lighters
---
ALITALIA Checked Baggage Allowance
ALITALIA Checked Baggage Allowance Summary
1-2 FREE Checked Baggage
158 TOTAL CM IN SIZE (THE SUM OF HEIGHT + WIDTH + DEPTH).
23-32 KG
CHECKED BAGGAGE CANNOT EXCEED 23 OR 32 KG IN WEIGHT, DEPENDING ON THE TRAVEL CLASS AND DESTINATION, AND 158 CM IN SIZE (THE SUM OF HEIGHT + WIDTH + DEPTH).
At check-in, your baggage will be weighed and tagged with your name, itinerary, airport codes, flight numbers, and dates. You will use the tag receipt to identify your baggage upon arrival and, should your baggage be lost, it will make it easier to track. We suggest that you also put your own personal luggage tag on the baggage, including your contact information, so that you can be reached in the event of a problem.
Alitalia's liability limits for lost or damaged baggage do not cover damage to valuable, fragile or perishable goods.
If you wish to extend these limits, find out how you can make a DECLARATION OF VALUE
---
ALITALIA SIZE, WEIGHT AND AMOUNT — BAGGAGE ALLOWANCE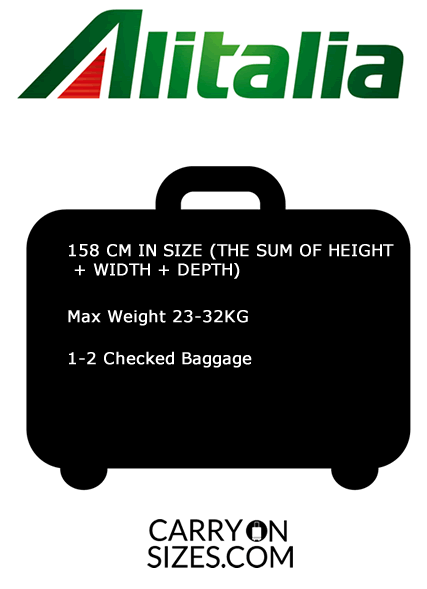 Make sure your baggage is strong enough and does not exceed the maximum allowed size: 158 cm (height + width + depth).
Cardboard boxes may be accepted as checked baggage, provided they are labelled with the passenger's name, wrapped in cellophane and comply with the maximum allowed size.
Depending on your destination, travel class and the ticket issue date, you may bring one or two pieces of baggage weighing no more than 23 or 32 kg. Any excess in terms of the allowed number of items, weight and/or size can be covered by paying for extra baggage allowance, which you can purchase at the airport from the Alitalia ticket desk or online during check-in, with a 20% discount.
Passengers who have requested special assistance may purchase extra baggage allowance with a 20% discount by calling the dedicated number within 24 hours of their flight departure time.
Please note that, for safety reasons, each item of baggage may not weigh more than 32 kg.
---
ALITALIA Special Baggage Allowance
ALL OF THE REGULATIONS GOVERNING THE TRANSPORTATION OF SPORTS EQUIPMENT, MUSICAL INSTRUMENTS, WEAPONS AND AMMUNITION, DIPLOMATIC BAGS AND URNS. CHECK WITH BAGGAGE ASSISTANCE.
ALITALIA SPORTS EQUIPMENT
Sports equipment weighing 23 kg or less is considered normal baggage and is included in the baggage allowance. Sports equipment exceeding 23 kg is subject to the normal excess baggage fee.
Surf and windsurf boards and tandem bikes are an exception to this rule.
ALITALIA MUSICAL INSTRUMENTS
All musical instruments the sum of whose dimensions (height, width, length) does not exceed 115 cm and whose length does not exceed 115 cm, and with a maximum weight of 8 kg, can be carried free of charge on board, in a special hard case, instead of hand luggage.
Instruments, such as cellos, which do not exceed the following dimensions: 52x40x135 cm (width, depth, height) and weight of 32 kg, must be carried in the cabin paying an additional fee. The booking must be made at least 48 hours before the day of departure.
Passengers wishing to carry their own musical instruments on board Alitalia flights must arrive at check-in at least 60 minutes before it closes.
ALITALIA WEAPONS AND AMMUNITION
Weapons and ammunition are not included in the baggage allowance. They must be registered during check-in, subject to payment of a flat-rate surcharge based on the flight destination. Each passenger is allowed to carry a maximum of 20 kg of weapons and a maximum of 5 kg of ammunition.
ALITALIA DIPLOMATIC BAG
A diplomatic bag is a sealed bag accompanied by a diplomatic courier who declares it as such during check-in.
URNS
All the necessary information on how to transport urns in the cabin on our flights.
ALITALIA Baggage assistance
ALL THE CONTACTS AND EVERYTHING YOU NEED TO KNOW SHOULD YOUR BAGGAGE BE DELAYED, TAMPERED WITH OR LOST.
For assistance with your baggage issues:
from United States

e-mail to customer.relationsNYC@alitalia.it
fax to +1 212 903 3568
write to Alitalia Customer Relations PO Box 4485 New York, NY 10163-4485

from Italy call (+39) 06 656401
from other Countries contact the Customer Relations Office nearest you
---
ALITALIA DELAYED OR LOST Baggage
If you should not get your luggage upon arrival, please go to the airport Lost & Found office of your destination city to file and obtain a Property Irregularity Report (P.I.R.). You will be given a copy of the P.I.R. and, if you are not a resident of the city, a kit containing some basic necessities including toiletries. Find out what you need to do to send a claim.
If your luggage is not found nor returned to you 45 days after your P.I.R., you can consider it permanently lost.
DAMAGED LUGGAGE
If your luggage was damaged during the journey, go to the airport Lost & Found office of the arrival city where the personnel on hand will do everything they can to help you. Depending on the type and extent of damage to your luggage and on your country of residence, Alitalia will give you a coupon towards the purchase of Alitalia tickets or a new piece of luggage with the same characteristics as the one that was damaged chosen from a catalogue of merchandise produced by a leading luggage manufacturer.
MISSING ITEMS
Is there something missing from your luggage?
Go immediately to the airport Lost & Found office for assistance and send a report within 7 days of filing the Property Irregularity Report (P.I.R.) or 21 days after having received your luggage if the theft was ascertained following a delayed delivery.
More information on ALITALIA Baggage Allowance