Who is Air France?
Air France is the national French flag carrier.
Air France has a long history of innovation and luxury travel to destinations around the world.
A Merger between Air France and the Dutch carrier KLM formed one of the largest airlines in Europe flying to over 200 destinations and offering the most up to date aircraft.
Air France serves 40+ locations in France and operates worldwide scheduled passenger and cargo services to 200 destinations in 80 countries and also carried 46,803,000 passengers in 2018.
The airline's global hub is at Charles de Gaulle Airport with Orly Airport as the primary domestic hub.
Air France Baggage Allowance Policy
Have questions about your Air France Luggage Sizes, Weight & Restrictions? YES
With all the Air France rules and regulations, it would be GREAT to the have answers about weight limits and restricted items before jumping on your Air France Flight.
Read below your more information on Air France Luggage Sizes, Weight & Restrictions:
Air France Hand Baggage Sizes and Weight Limits
Air France Hand Baggage Summary
 1 FREE Carry on
  1 FREE personal item – Purse, Briefcase & Laptop, etc
 MAX 22″ x 14″ x 9″
 MAX 11.5KG
More information at: Airfrance.com Baggage Policy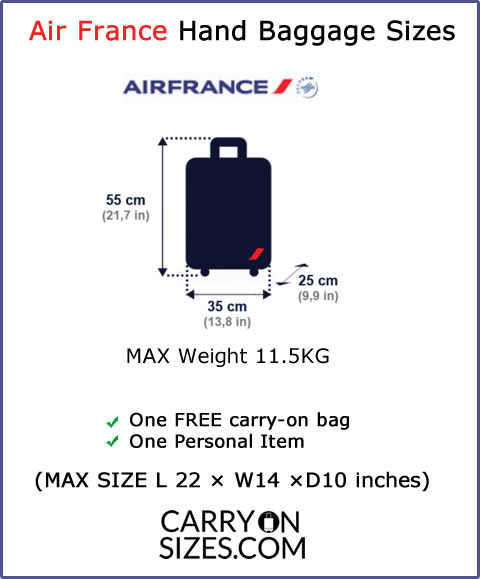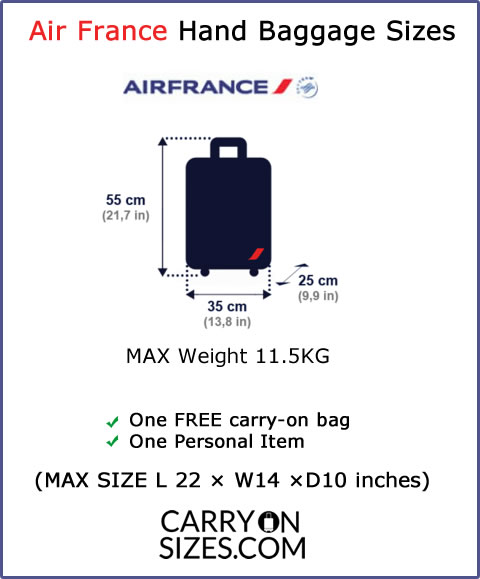 Airline
No. of Bags Allowed
Maximum Allowable Dimensions
Max Weight
Air France
carry-on info
1/passenger
22″ x 14″ x 9″
26.4 lbs.
Air France Hand Baggage Sizes
In order to keep the passenger compartment uncluttered and safe, the airlines place rules and size limits on the luggage that each traveller can carry on the plane.
The primary rule is the size limit stating that bags carried on board must be small enough to store below your seat or in the overhead compartment.
Currently, the basic rule is that carry on baggage must be no taller than 22 inches, no wider than 14 inches, and no deeper than 9 inches. In many cases, you'll also have to contend with limits on weight. We've gathered the restriction details of some of the more heavily travelled airlines below.
---
Air France Cabin Allowance – Personal Items
You may bring the following items with you in the cabin and they do not count as your hand baggage or accessory:
Jacket, coat or other clothes you are wearing,
Umbrella,
Duty-free items purchased on your flight or at the airport,
Accessories for children such as a collapsible stroller*, car seat, diaper bag
Medical equipment (collapsible wheelchair*, crutches, etc).

---
Air France Other Special Baggage items
The transportation of bulky items, wheelchairs, musical instruments and other such items is also subject to specific conditions.
---
Air France LIQUID GOODS PERMITTED IN THE CABIN
You can transport liquid goods in your hand baggage, as long as you respect the following conditions:
Containers must be placed in a clear, sealed plastic bag
Each container in the bag must not exceed 100 ml / 3.4 fl. oz.
The volume of the bag must not exceed 1 liter / 34.8 fl. oz.
The dimensions of the bag must not exceed 20 x 20 cm / 7.8 x 7.8 in
Please note: each passenger may bring one clear plastic bag.
Certain liquids are accepted with no restrictions (baby food, medicine, etc.
---
Air France Baggage Fees
Air France offers an easy-to-use online calculator that tells you exactly what you'll pay.
Your destination determines how many pieces of luggage you may take with you. The maximum weight allowance (in kilos) or a number of pieces ('PC´) that can be checked in is stated on your e-ticket.
If you wish to transport baggage items that are heavier than the specified limit, or an additional baggage item, you must pay a supplement at check-in.
Each passenger is allowed to check one item free of charge on international flights between Canada, the U.S. and Europe. Each item must not exceed a weight of 23 kg (50 lbs.). A second checked bag will incur a fee that varies by destination.
From the U.S. to France, the second checked bag requires a fee of $80 when paid online, $100 at the airport, or 15,000 frequent flier miles
You can also buy your additional baggage allowance in advance when you check in online via  Air France sites. and take advantage of discounts.
Air France Lost Baggage
If there is an issue with lost baggage, then please contact AirFrance customer services – Air France
---
More Info on Air France Baggage Policy

AirFrance Website: Airfrance.com Baggage Policy
Air France Company Profile
In 2003, the merger with KLM occurred and created one of the world's largest airlines, by 2004 Air France was responsible for around one-quarter of all flights scheduled across Europe. This position as one of the major carriers in Europe has been assisted by the arrival of the Hop! the airline, which offers the majority of Air France flights to locations in and around France and Europe as a whole. The main airport hub for Air France is located at Charles de Gaulle Airport in Paris, which offers flights to every Air France destination and is also the home for Air France subsidiaries Hop! and CityJet.
The links with airplane innovation have continued since the end of the supersonic era with Air France being one of the first airlines to offer flights from the A380 plane. The airline offers a mixed fleet of aircraft that includes planes from both Airbus and Boeing manufacturers, with the majority of flights completed by Airbus A320 and Boeing 777 planes to create a total operating fleet of around 250 planes in 2013.
Air France consistently ranks highly in customer satisfaction surveys, largely because of the impressive style and comfort offered in its cabins. International long haul flights feature a number of options not available with many international carriers, such as personal screens in the rear of seats for passengers in all four cabins offered during international flights. On-demand video and audio options are also extensive and have led to many passengers choosing Air France as a matter of course for their long-haul flights.