Sun Country Airline Carry On Baggage Guide
Sun Country is a US-based low-cost airline.
Flying to 35 destinations in the United States, Costa Rica, Dominican Republic, Jamaica, Mexico & Puerto Rico
Website: https://www.suncountry.com
Reservations: 1-800-800-6557
Our SUN Country carry on policy provides each ticketed passenger the following allowance at no additional charge:
---
Sun Country Carry On Luggage Summary
Sun Country Carry on Summary
1 FREE Hand Carry on
24" long x 16" wide x 11" tall
MAX 15 KG Weight
1 FREE personal item
More info at Suncountry.com Policies
---
Sun Country Carry On Policy
One (1) carry-on bag which may not exceed any of the following dimensions: 24" long x 16" wide x 11" tall (including wheels, handles, or any other protruding items), and may not exceed 15 KG pounds in weight.
Passengers may also carry:
One (1) smaller personal item (e.g., purse, laptop, etc.) which may not exceed any of the following dimensions: 16" long x 11'' wide x 8" tall. This item must be stowed under the seat in front of them.
Test your Luggage at the Sun Country Airport bag checker: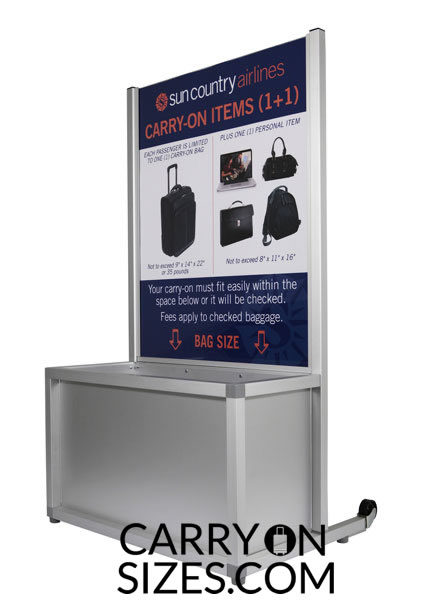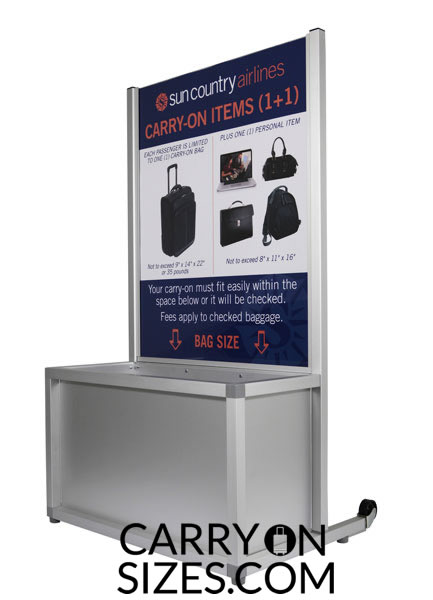 *Note: Overhead storage on board each aircraft is limited. Once the aircraft bins have reached capacity, remaining qualified carry-on sized bags will be tagged and travel as Checked Baggage without fee.
All carry-on items must be stowed in overhead bins or under the passenger's seat
---
Sun Country Baggage Fees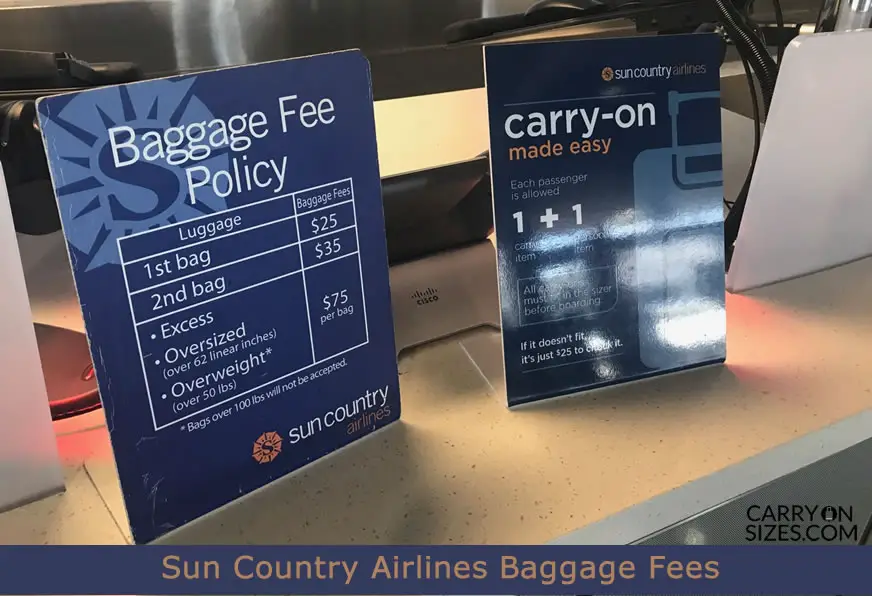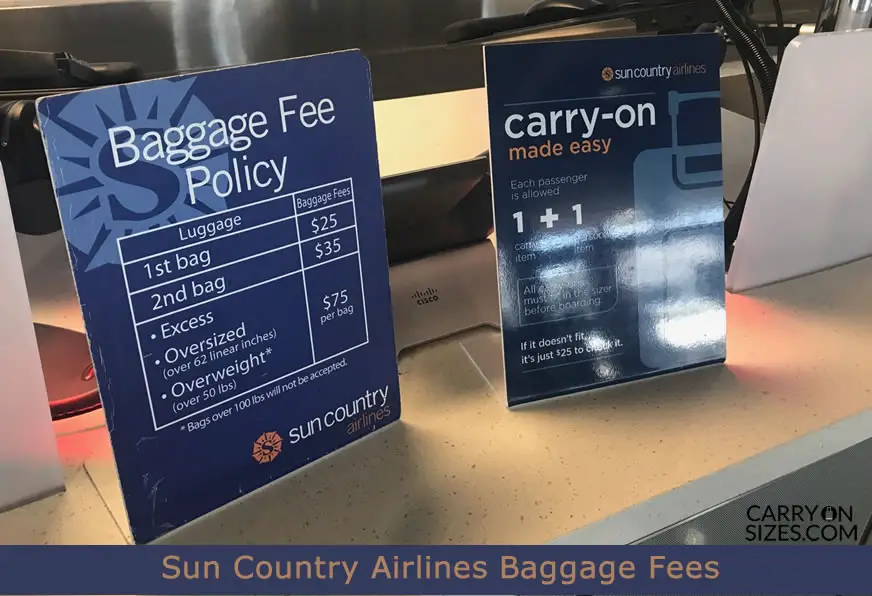 Passengers traveling on Sun Country Airlines flight have no free checked in baggage allowance
Sun Country Airlines will not check baggage more than 4 hours prior to the scheduled flight departure
---
Sun Country Checked Baggage Fee
Save time and money with the convenience of paying for your checked baggage online.
Online Payment – 1st Bag Fee $20. 2nd Bag Fee $30
At Airport Payment – 1st Bag Fee $25. 2nd Bag Fee $35
Please note: Sun country BAGGAGE FEES ARE NON-REFUNDABLE AND NON-TRANSFERABLE. 
---
Sun Country Forbidden Items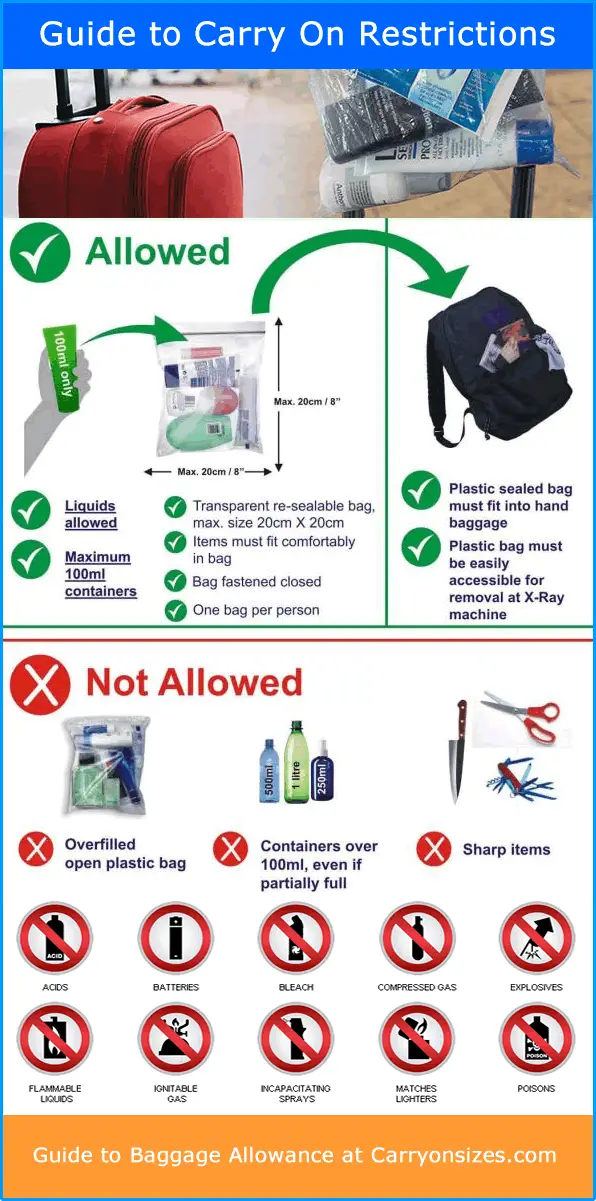 Certain items are considered hazardous materials and, by federal law, are prohibited from being transported on all Sun Country Airlines flights.
The following items are examples of items that will not be transported by Sun Country Airlines.
Categories of Hazardous materials that are forbidden
Flammable substances
Explosives
Poisons
Compressed Gases
Corrosives
Radioactive materials
Examples of hazardous materials forbidden for carriage
Lithium batteries
Aerosols
Spray starch
Fireworks
Liquid fuels (e.g. gasoline, butane, lighter fluid)
Liquid oxygen
Torch lighters
Strike anywhere matches
Pesticides
Oxygen bottles or cylinders
Passengers can transport liquids, gels, lotions or similar items thru the security checkpoint if the items are less then 3.4oz (100 ml) individually and they fit into a transparent 1 qt (1 liter) plastic bag.
The contents must fit completely in the plastic bag and will be subjected to x-ray inspection separate from the passenger's carry on bag.
Passengers may also have the following items, but must declare them to TSA at the screening checkpoint if not contained in a clear or transparent resealable 1 quart (1 liter) plastic bag and/or are over 3.4oz. (100ml).
Baby formula/milk (to include breast milk), juice, and baby food in containers if a baby or small child is traveling
Medications (liquid, gel, and aerosol)
Liquids (to include juice) or gels for diabetic or other medical needs.
Mobility Devices
Mobility devices, crutches, canes, braces, or other mobility aids needed by the customer are not counted as additional carry-ons and must be stored in accordance with Federal Aviation Administration (FAA) Regulations.
Active Military Personnel
Active US Military personnel traveling on official orders are allowed to check two bags free of charge. To qualify, military personnel will need to present a valid military ID card.
Summary of TSA Rules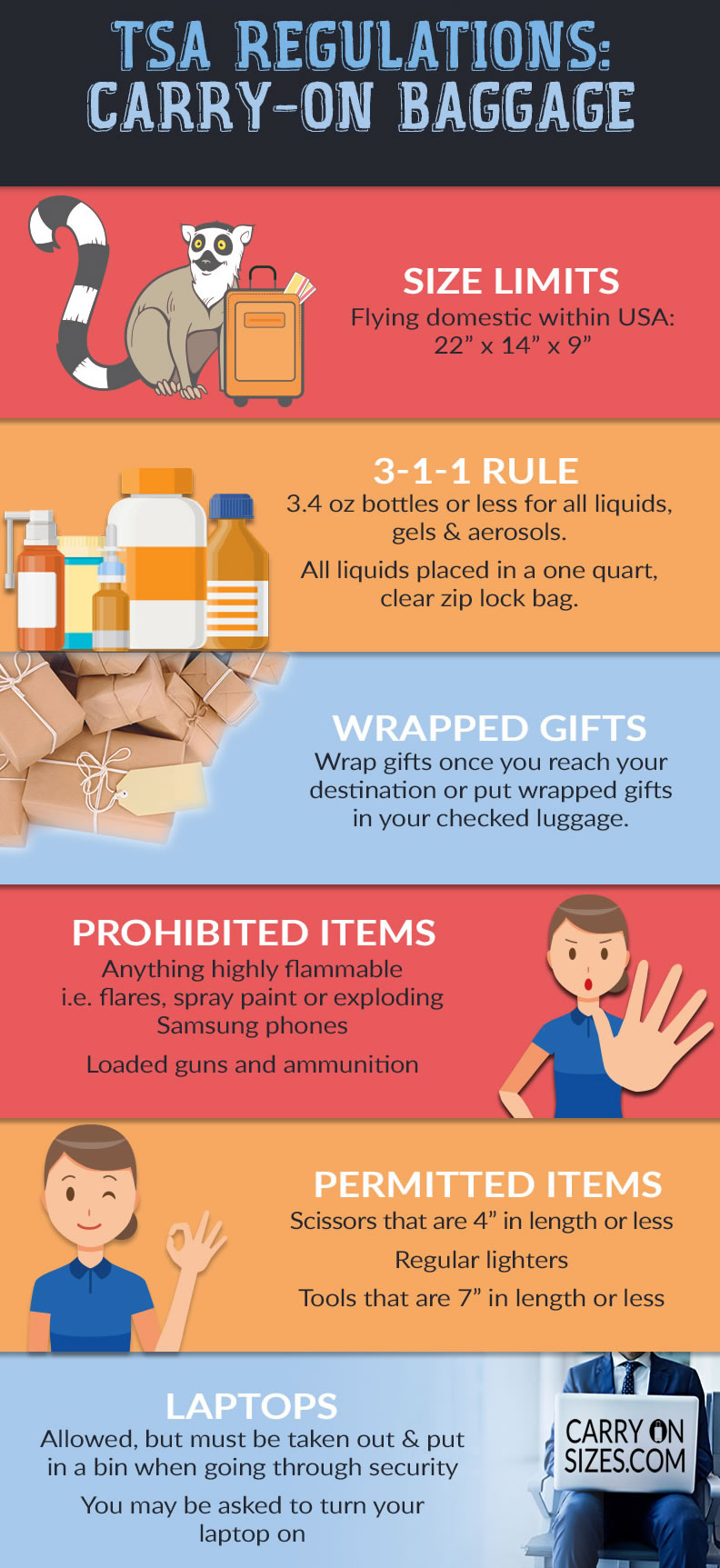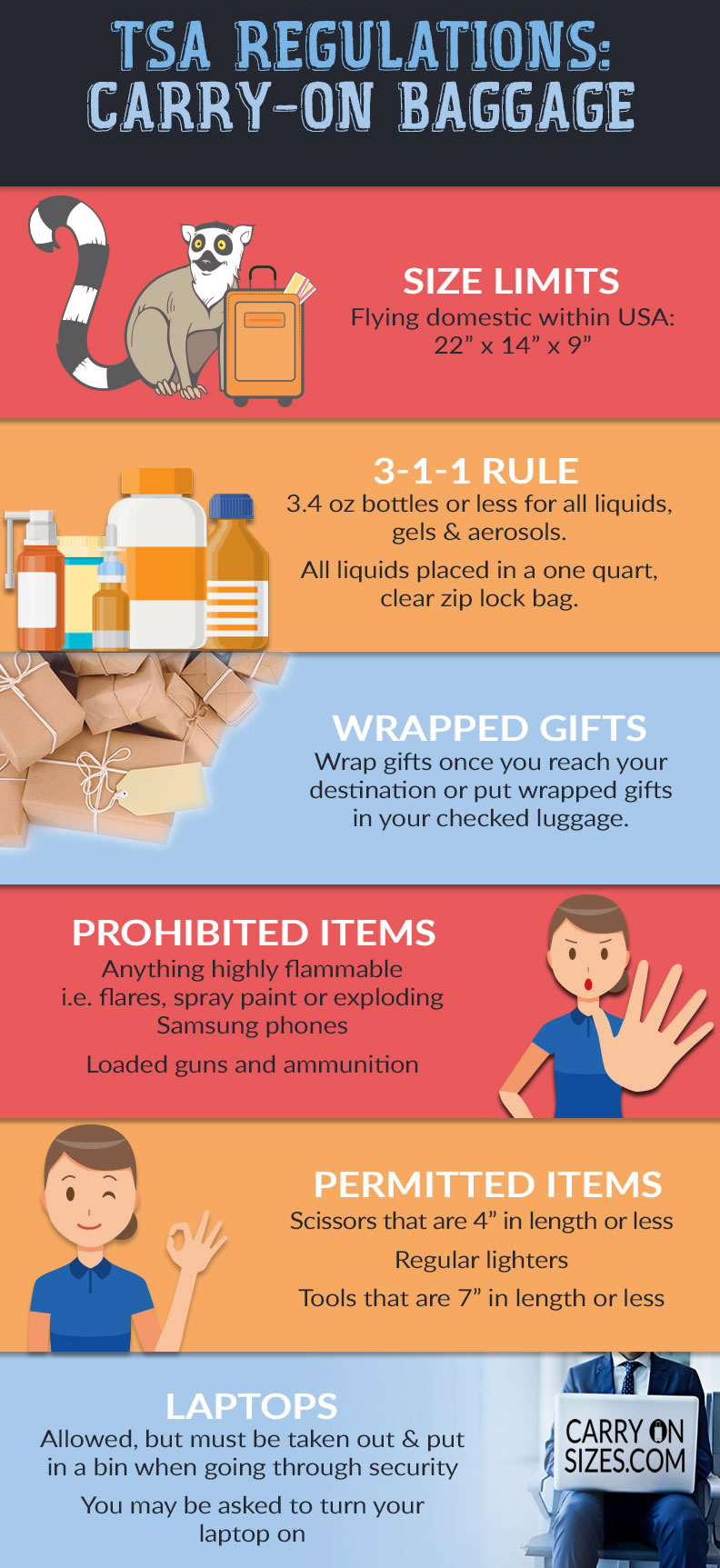 Sun Country Excess Baggage Fees
$75 will be charged for the third checked bag under 50 pounds and/or 62 linear inches
| | |
| --- | --- |
| Weight/Size | Fee Each Way |
| 51 – 60 pounds | $45 |
| 61 – 100 pounds1 | $75 |
| Over 100 pounds | Not accepted |
| 63 or more linear inches | $75 |
Sporting Equipment
One (1) item of the following sporting equipment may be substituted for one (1) of your checked baggage. For the items listed below, multiple items count as one (1) item of luggage and are subject to baggage fees.
Fishing Equipment
Golfing Equipment
Skiing Equipment
Bowling Equipment
Hockey Equipment
Lacrosse Equipment
Bicycles
Scuba-Diving Equipment
Surfboard, Wakeboard and Kiteboards
Windsurfing Equipment
Antlers
Trailer Hitches
---
Sun Country Firearm Policies
Firearms and ammunition are accepted as checked baggage only.
All firearms must be unloaded with the action, slide, or bolt open where applicable.
All firearms must be declared at the airport check-in counter.
Firearms will only be accepted in a hard-sided locked container (for example – rifle case).
Ammunition must be packed in its original packaging or case specifically designed for the ammunition. Loose ammunition or ammunition loaded in magazines or speed loaders will not be accepted Please review the information at www.tsa.gov.
Medical Equipment
For information on transporting medical equipment (including mobility devices) in your baggage, please see the Passengers with Disabilities and Special Needs Page.
---
SUN Country Pets Carry on Policy
Sun Country accepts small cats and dogs in the aircraft cabins on flights within the contiguous United States. The following conditions apply to customers bringing a small dog or cat
An advance conditional reservation is recommended per segment through Sun Country Reservations for a non-refundable fee of $125
Walk up requests are limited to the 4 pets per aircraft limit for a non-refundable fee of $19
Only one pet per ticketed passenger is allowed.
---
More info on SUN Country Luggage Policy 
Baggage Information Hotline
For inquiries regarding delayed or damaged baggage, please call SUN Country toll-free hotline at US 888-359-5586 for assistance.
More info at Suncountry.com Policies