Have questions about your Delta Air Luggage Sizes, Weight & Restrictions? YES. With all the Delta Air rules and regulations, it would be GREAT to the have answers about weight limits and restricted items before jumping on your Delta Air Flight. Read below your more information on Delta Airlines Baggage Sizes & Weight Limits
 When flying Delta Airlines, you must have questions about your Delta Airlines Baggage Sizes, Weight & Restrictions Allowances? 
Delta Airlines Carry On Baggage Size & Weight Limits
Delta Airline Carry On Baggage Summary
1 FREE Carry on
1 FREE personal item – purse, briefcase, laptop, etc
Approximately 22″ x 14″ x 9″ or 56 x 35 x  23 cm
No MAX Weight
More information at: Delta.com Baggage Policy Website
Delta Airlines – One bag. One item. No charge.
You're allowed one carry-on bag and one personal item with Delta Airlines at no extra charge.
If you are planning on traveling with just carry-on baggage you will need to pay attention to the actual measurements of your bag. It should be less than 45 inches or 115 centimeters in height, width or length. If your baggage is considered oversized, you will have to pay, increasing your delta baggage fees.
Just make sure they fit into the overhead bin or under the seat in front of you.
---
Delta Airlines Approved Personal Baggage Items
1 purse
Briefcase
Camera bag
Diaper bag
1 laptop computer
The following items do not count as personal items:
A jacket or umbrella
Food or drink purchased after clearing the security checkpoint
Duty-free
Special items like strollers, child restraint seats or assistive devices such as wheelchairs or crutches
More information at: Delta.com
---
Delta Airlines Carry On Baggage Allowances
To avoid delays and possible checked bag fees, follow these delta airlines baggage size requirements:
Baggage may not exceed 45 linear inches (or 114 cm) in combined length, width and height, including any handles and wheels
Baggage must fit easily in the Carry-on Baggage Check (approximately 22″ x 14″ x 9″ or 56 x 35 x 23 cm), which is located near the check-in counters.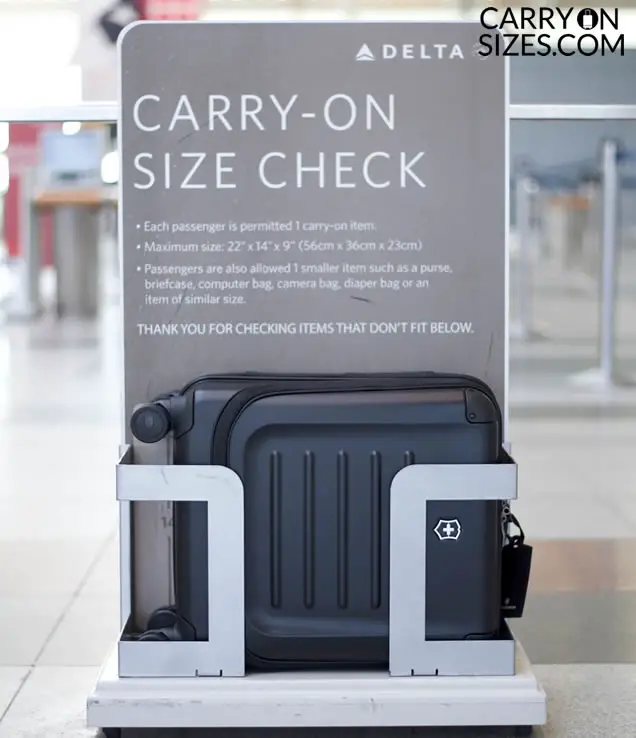 Passengers travelling on Delta Connection flights, and only those flights with fifty (50) seats or less, are only permitted to carry personal items on board the aircraft due to limited overhead space. Personal items must be able to fit securely under the seat in front of the passenger.
All carry-on bags within Delta's size restrictions will be gate checked, free of charge, during the boarding process and returned upon deplaning. Please ensure that a pink Gate Claim/Planeside tag is securely attached to the carry-on item. Assistive devices are not subject to this restriction.
---
Delta Airlines Checked Baggage Size & Weight Limits
Delta Air Checked Baggage Summary
US – 1st Bag, $30, 2nd $40
International – 1st Bag, $60, 2nd $100
MAX Measuring 62 inches (157cm) in total dimensions
Max 50 lbs (23 kg)
Delta Baggage Fees on Checked Baggage
The most Delta Airlines baggage fees or travelling in a domestic, Main Cabin seats are:
If you need to bring bigger baggage with you then you will need to check it. In that case, the Delta baggage fees for flights are:
US and Canada are just $25 for the first checked bag and they will increase to $35 for the following.
Your bag must not weight more than 23 KGS and must be within the appropriate measurements.
What is Delta Airlines fee for oversize baggage?
Delta Airlines will charge $200.00 USD extra for bags that are from 63 to 115 linear inches or from 160 to 292 centimeters on U S domestic flights.
Bags greater than 115 linear inches or 292 centimeters will not be accepted as checked baggage / hold luggage.
Check Delta's site for flights to/from/within other geographic areas.
---
Delta Airlines EXTRA BAGS
For extra bags checked onto a flight within the US (incl. the US Virgin Islands and Puerto Rico), the fee is $150, one way, for the first extra bag (the 3rd bag in total), or $200 for each additional bag after that.
For travel between North/South/Central America and Europe or North Africa, the charge is $285 each for bags number 3 – 10.
Passengers are permitted to check up to a maximum of 10 bags on flights operated by Delta and up to 4 on Delta Connection flights.
---
Delta Airlines OVERWEIGHT BAGS
According to Delta's checked baggage allowance rules, overweight bags incur fees that differ depending on the route travelled. For flights within the US/ Canada, the fee is $100 for bags weighing between 51-70 lbs or $200 for bags between 71-100 lbs. Bags over 100lbs (45kg) are not allowed.
For flights between the US and Europe, the fee is $100 for bags weighing between 51-70 lbs. Bags over 70 lbs are not permitted.
---
Delta Airlines PETS Policy
Dogs, cats and household birds can be carried on board for $125 one way to/ from most destinations within the US/ US Virgin Islands/ Canada or Puerto Rico.
The fee is $200 for travel outside the US, and $75 for travel to/ from Brazil.
The pet must fit comfortably within a carrier that, in turn, fits under the seat in front. The carrier counts as one piece of Delta carry on luggage.
---
Top Delta Baggage Tips
Be familiar with Delta baggage fees and rules before you take off. Ensure your Delta Baggage is within Delta Baggage Size, Weight Restrictions
Limit the number of bags you take and reduce the potential for additional baggage fees by sharing luggage.
Pack light and consider using a compression device to fit all of your items into a smaller space.
Joining the Delta rewards program or frequent flier program may allow you to check bags for free.
---
Delta Restricted Items
For safety reasons, not all items can be carried with you. Explosives and fireworks are obviously totally forbidden, as well as any kind of hazardous materials that can compromise the remaining passengers welfare.
To sum up, Delta is a very good company to fly with. If you pay close attention to this guide, you won't pay any additional delta baggage fees. We wish you a good flight.
You can check the updated delta baggage fees and the restricted items list at the official Delta website.
---
More information on Delta Airlines Baggage Policy
Who is Delta?
Delta Airlines is one of the biggest airlines on which you can fly in the United States of America. The company was initially founded in 1924 and has grown to become a major airline service. They serve over four thousand flights daily, which sums up to a total of 120.000 flights a month. This is an incredible number which should be taken into consideration when you are choosing your flight company.
Despite having over 700 airplanes in their fleet and being considered one of the top airlines in the United States, you should review the Delta Baggage Policy before flying.